Our Aims
School-based English Curriculum
the NET Schemes
English Activities
Students' Performances
Pupils' Good Work
Teachers' professional development
English Language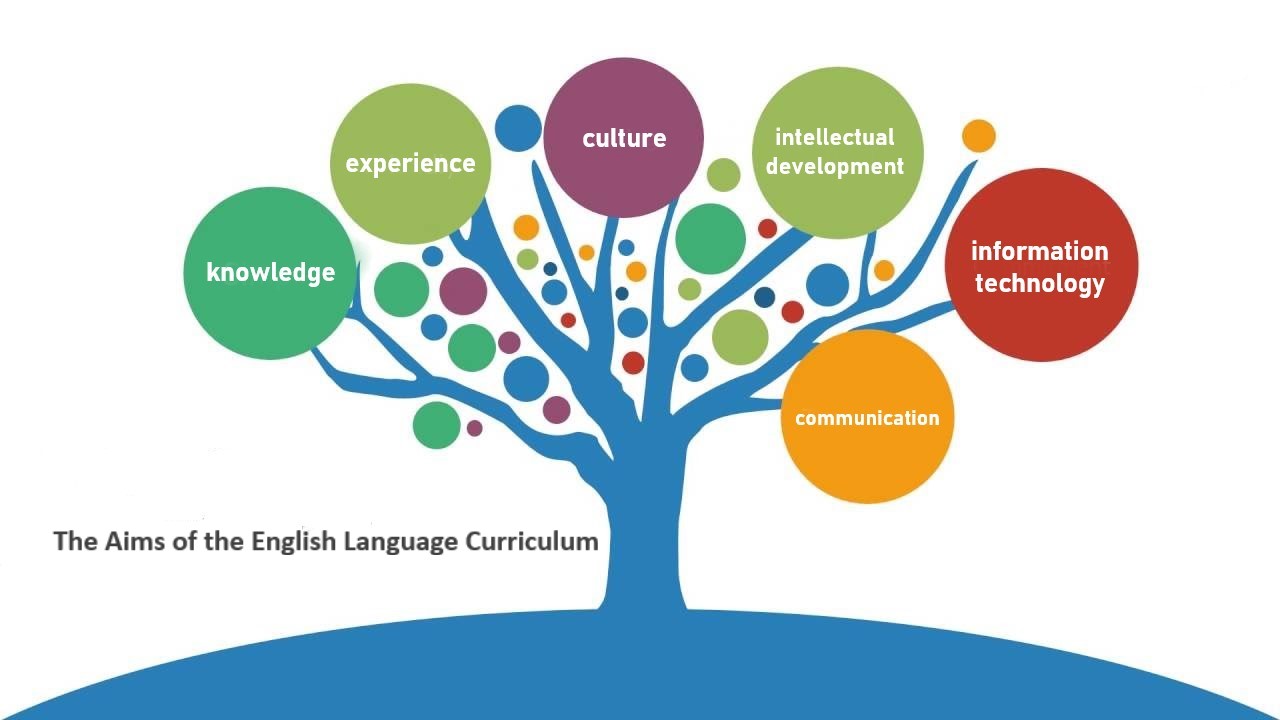 Our aims are to provide every learner of a second language with further opportunities for extending their knowledge and experience of the culture of other people as well as opportunities for personal and intellectual development, further studies, pleasure, and work in the English medium; and to enable every learner to prepare for the changing socio-economic demands resulting from advances in information technology; these demands include the interpretation, use and production of materials for pleasure, study and work in the English medium.
※ School-based Phonics Curriculum
Integrate phonics chants, songs and stories into the English curriculum. Reinforce the phonics skills through e-learning.
※ School-based E-readers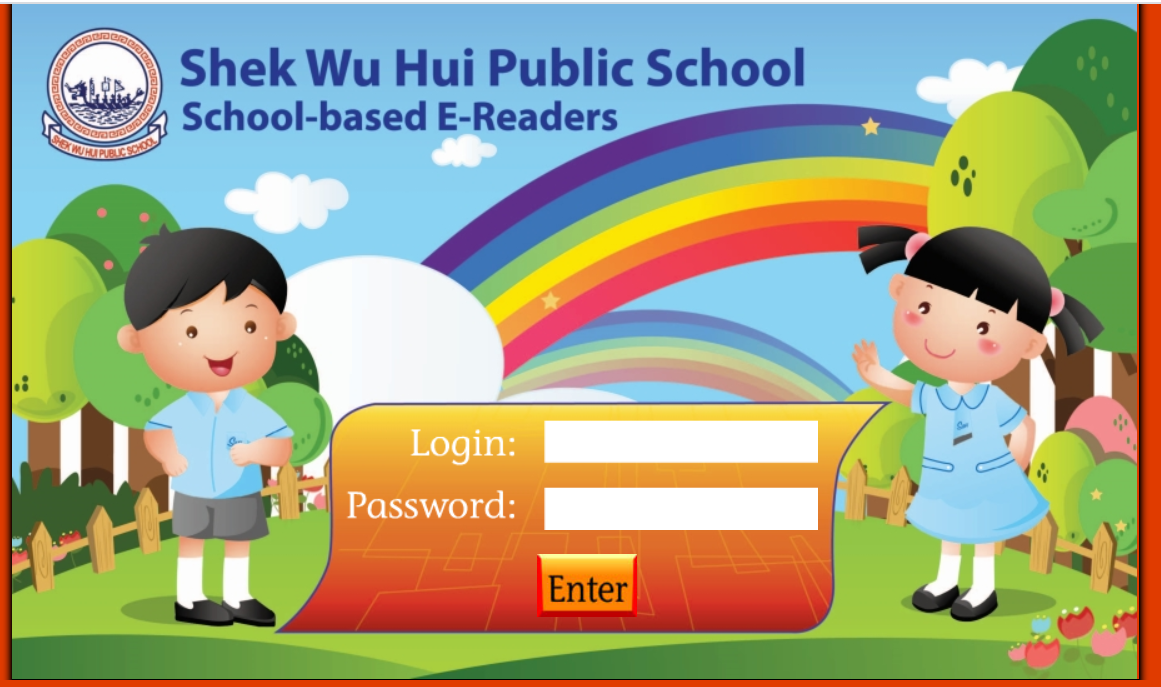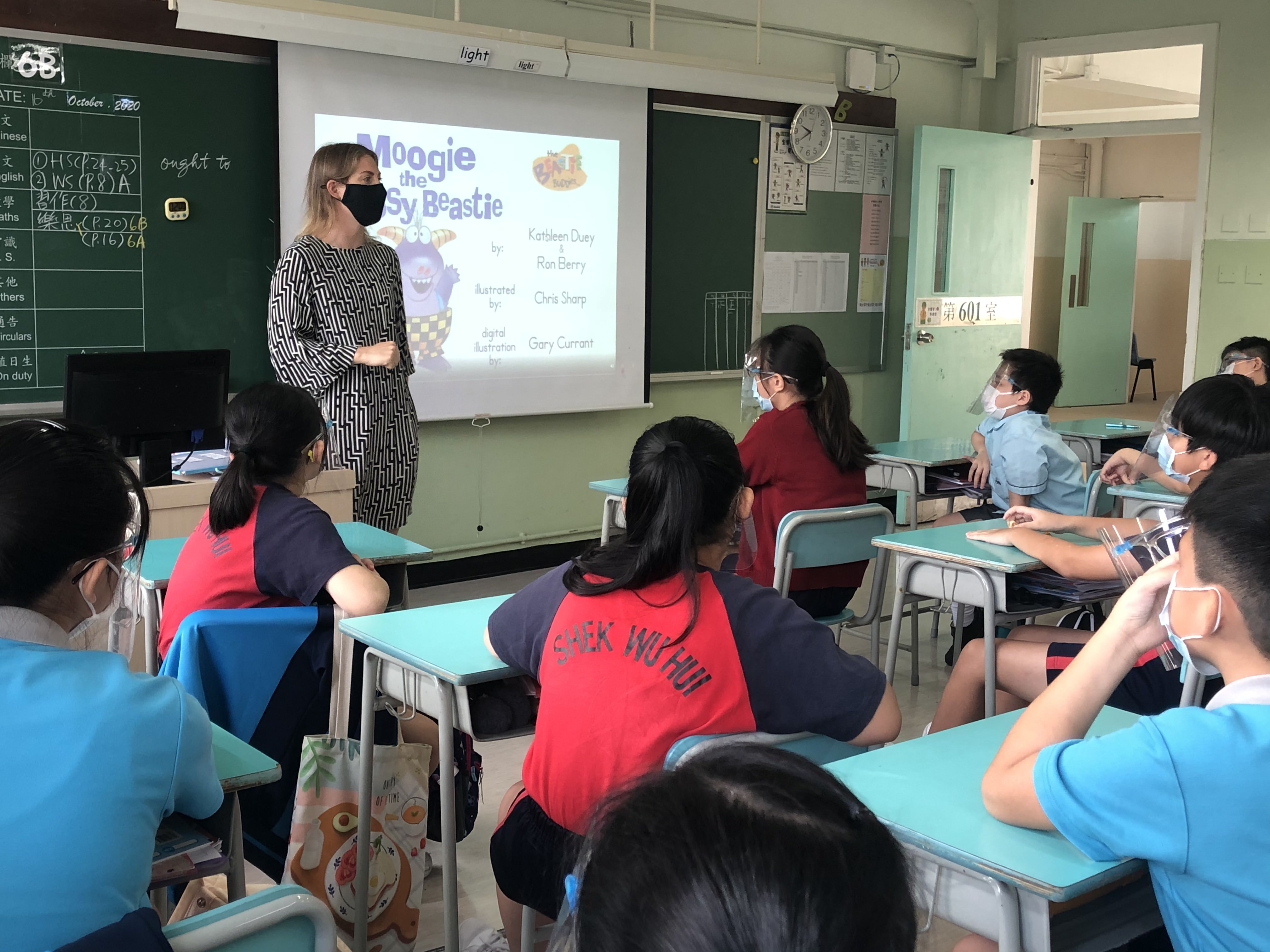 With the grants from the Standing Committee on Language Education and Research (SCOLAR) and the EDB under the PEEGS, school-based E-Readers are purchased for each pupil. E-Readers which cover different text types and include across curriuclum readers are taught in English lessons. Pupils finish the assessment using the i-pads which give an immediate feedback for evaluation.
※ School-based Teaching and Learning Materials
Provide each student a Notebook and a Self-Learning Booklet to learn independently; provide each student a set of English Worksheets to consolidate their learning; provide each student a Vocabulary and Song Book to build up their vocabulary bank and enjoy singing English chants or songs at school.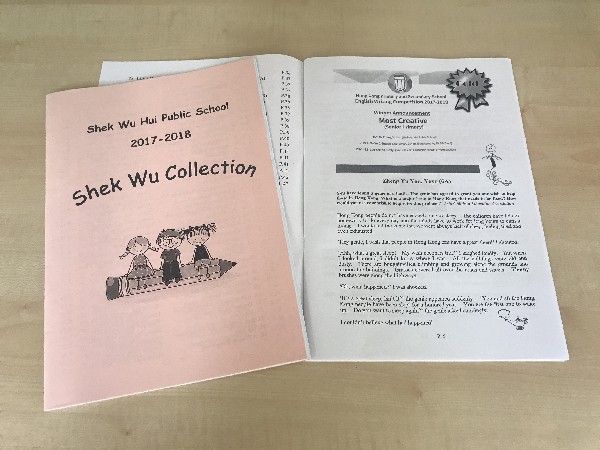 Every year, students' good writing works are compiled in the Shek Wu Collection.
※ e-Learning
The Latest e-Learning Textbooks and Teaching Materials
※ the NET Schemes
All pupils have NET lessons with the two NET teachers at school weekly.
The NETs bring into the language classrooms of local schools their professional experience, different teaching styles and ideas, and cultural literacy that can help enrich students' literacy experiences and the language learning environment. The NETs collaborate with our local teachers to provide an authentic environment for children to learn English and to develop children's interest in learning English and establish the foundation for lifelong learning.
All the P.1-3 students have two English lessons with Miss Emily weekly under the EDB NET Scheme.


All the P.1-6 students have an English lesson with Miss Amy weekly under the school-based NET Scheme.
※ Our NET Teachers
Miss Emily
I'm the Native English Teacher at Shek Wu Hui Public School. I will be responsible for teaching P.1-P.3. I'm very much looking forward to meeting all of the students at the school.Hello, my name is Miss Emily. I'm from England.
I come from a family of teachers. My mum was a teacher and I always loved visiting her school when I was growing up and helping her in the classroom and my two older brothers are also teachers. I have always wanted to be a teacher and help students achieve their goals and reach their potential.
I have been living in Hong Kong for eight years now. I live in Sai Kung with my husband, two-year-old daughter and our two cats. At the weekend I love to go to the beach, go hiking and swimming.
My passion is to travel and see new places. I spent my summer travelling around South East Asia, trying different food and experiencing different cultures.
If you see me around school, please come and have a chat with me!
Miss Amy
Hello, my name is Miss Amy. I'm from South Africa. I became a teacher because I love people - especially little people. I come from a country where I have seen what lifechanging things good education can do and I want to be part of the reason somebody achieves the goals they have set out and their dreams they have in life. I want to ignite a passion in young learners for lifelong learning like my teachers have before me. I believe with the right education the world is your oyster. I have been living in Hong Kong for four years now. My husband and I have explored every inch of this gorgeous place from the tallest mountain to the furthest white sandy beaches and are taken aback by the uniqueness and extraordinary beauty.
※ Whole-level Activities
Each level carries out a whole-level activity which gives opportunities to students to use their English out of the classroom.
P.1 Yummy Fruit
Pupils dressed up as different kinds of fruit and they enjoyed singing the song 'The Fruit Song'. Pupils also played an interactive colour game in Kahoot! by using an ipads.
P.1 Fancy Dress Party
Students and teachers dressed up nicely and joined the birthday party at school.
P.2 Smart Shopping
Pupils go shopping at the school hall. They are excited to choose their favourite things and buy them.
P.2 I Love Toys!
Students buy their favourite toys at toy shops. Some students act as the shopkeepers while the others act as customers to ask for the price of different toys and choose the toys they want to buy.
P.3 Shek Wu Fun Fun Fashion Show
Students put on their most attractive outfits and turned into models. They did their first Cat Walk Show at school.
P.3 Shopping Fun
Pupils got a shopping list and a coupon and did shopping in the school hall together. Some pupils acted as shopkeepers and the other pupils had to finish the shopping according to the shopping list. They got a free gift when they use the coupon.


P.4 Discover Hong Kong
Pupils did an interview with the tourists in Tsim Sha Tsui to find out more about the Hong Kong attractions.
P.4 Ready, get set, go
Pupils followed the instructions to get a treasure on an enlarged map at the school hall.
P.5 All about Food
Students consolidated what they have learnt about food by joining the game booths in the school together. Various games required students to use the vocabulary and language learnt.
P.5 East Meets West
Teachers and students designed and set up multi-media game booths for students to learn the East and West cultures.
P.6 Smart Cooking Day
Pupils designed their own recipes and made their delicious dishes at school. They had fun and tasty food together.
P.6 A Class Visit to Hong Kong Railway Museum
Pupils had a class visit to the Hong Kong Railway Museum. They joined a guided tour and learnt about the history of the trains. They enjoyed a relaxing moment on the old carriage. After the visit, they presented their ideas of holding an event or adding a new facility at the Hong Kong Railway Museum.
※ Wide-Life Learning
P.2 students visit the playground near school to find out the facilities in the playground. They had fun there for sure!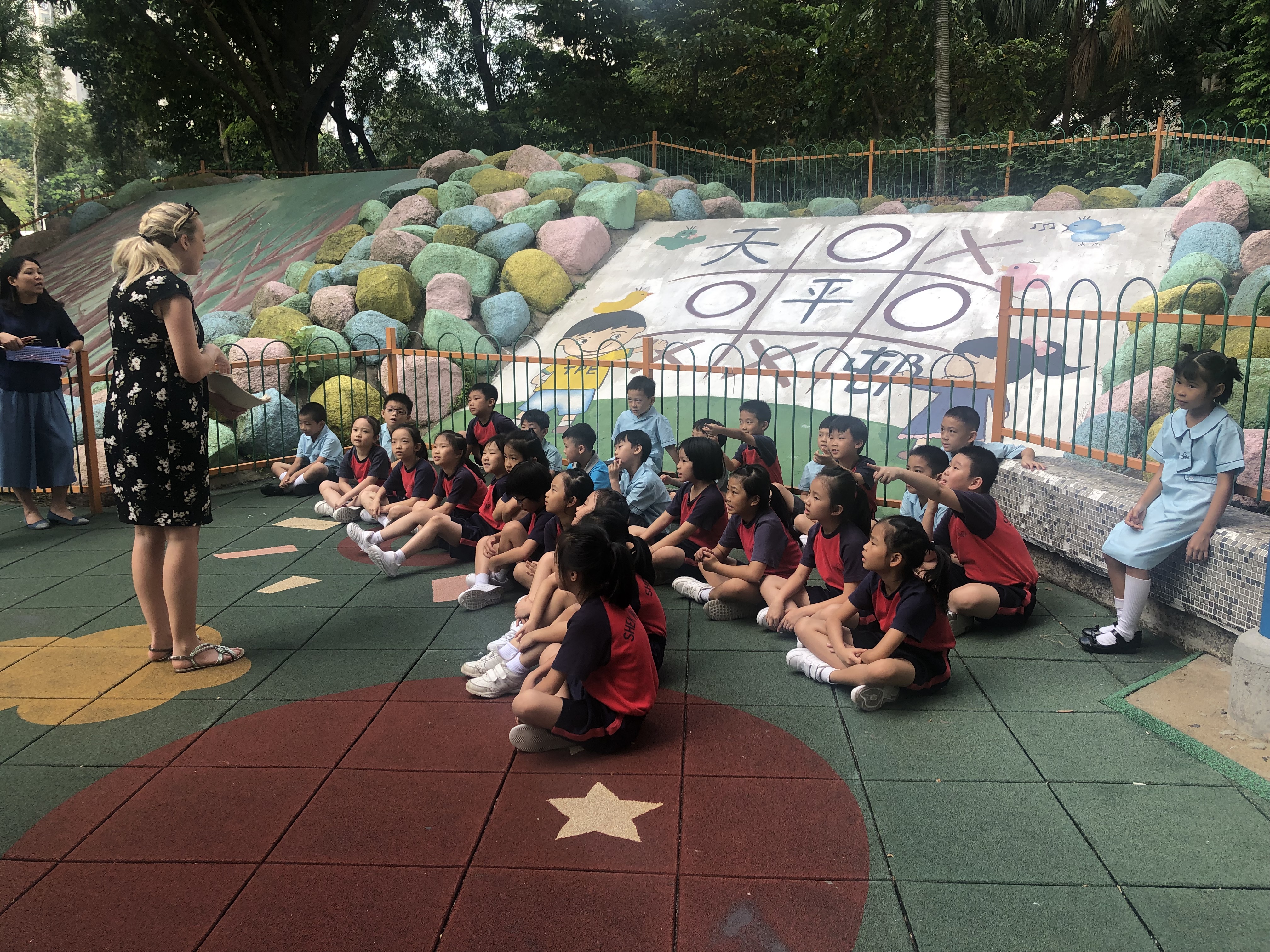 P.4 students visit the tourist spots in Tsim Sha Tsui to explore the Hong Kong attractions.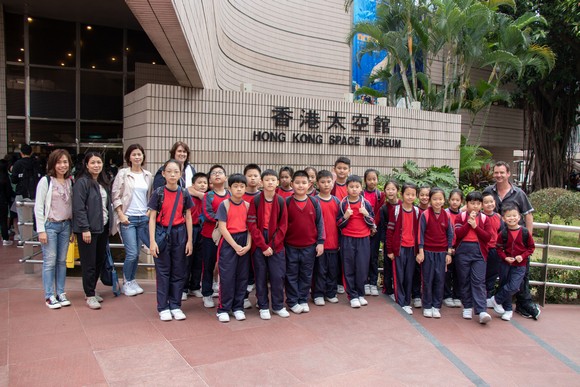 P.6 students visit the Hong Kong Railway Museum to extend their knowledge from textbook to the daily life.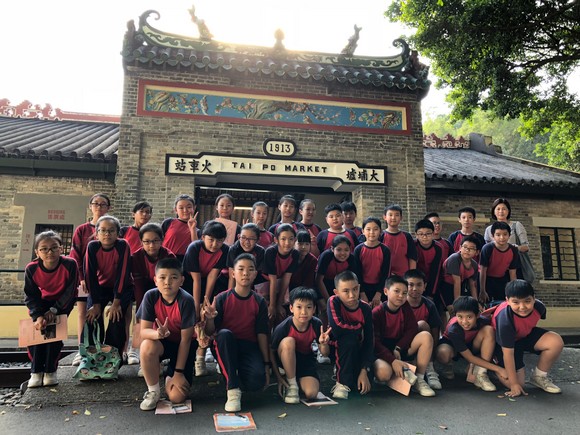 ※ e-Learning and Reading Schemes
Students read the English newspapers, STEM Reading Fun or English storybooks every Tuesday morning. Selected books are provided for P.1 and P.2 students for home reading with parents weekly. The English Ambassadors read the readers with the P.1 and P.2 pupils. Besides, all the students can enjoy reading e-books in the Sunshine Classics Reading Platform and the School-based e-Readers Platform anytime. Students can even have a self-directed learning through the learning platform Head Start at home every day.
| | |
| --- | --- |
| Head Start | School-based e-readers |
| Tuesday Morning Reading | Sunshine Classics Online Reading Series |
※ Classroom Learning Activities
| | |
| --- | --- |
| Presentation | Group Discussion |
| Pair Work | Peer Learning |
| Cater for learners' diversities | |
| | |
Other English Activities
English Drama Club
English Fun Days
Christmas Celebration
English Fun Days
Halloween Celebration
English Fun Days
Chinese New Year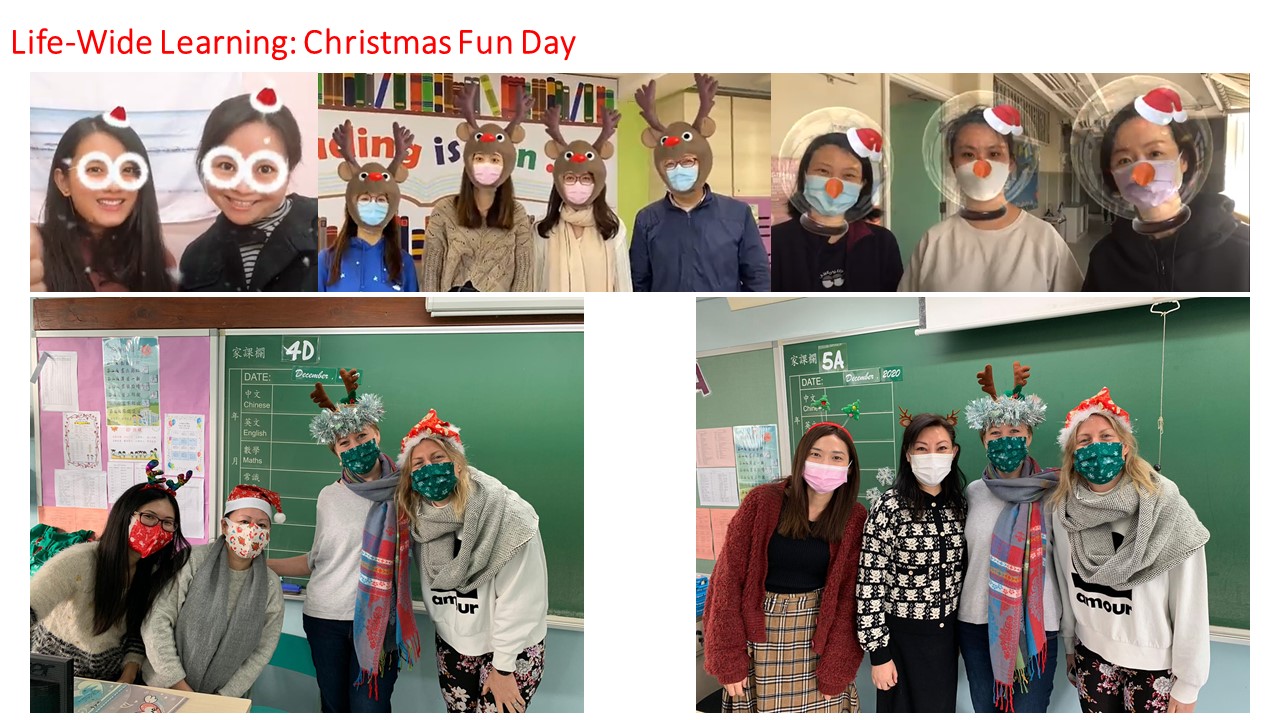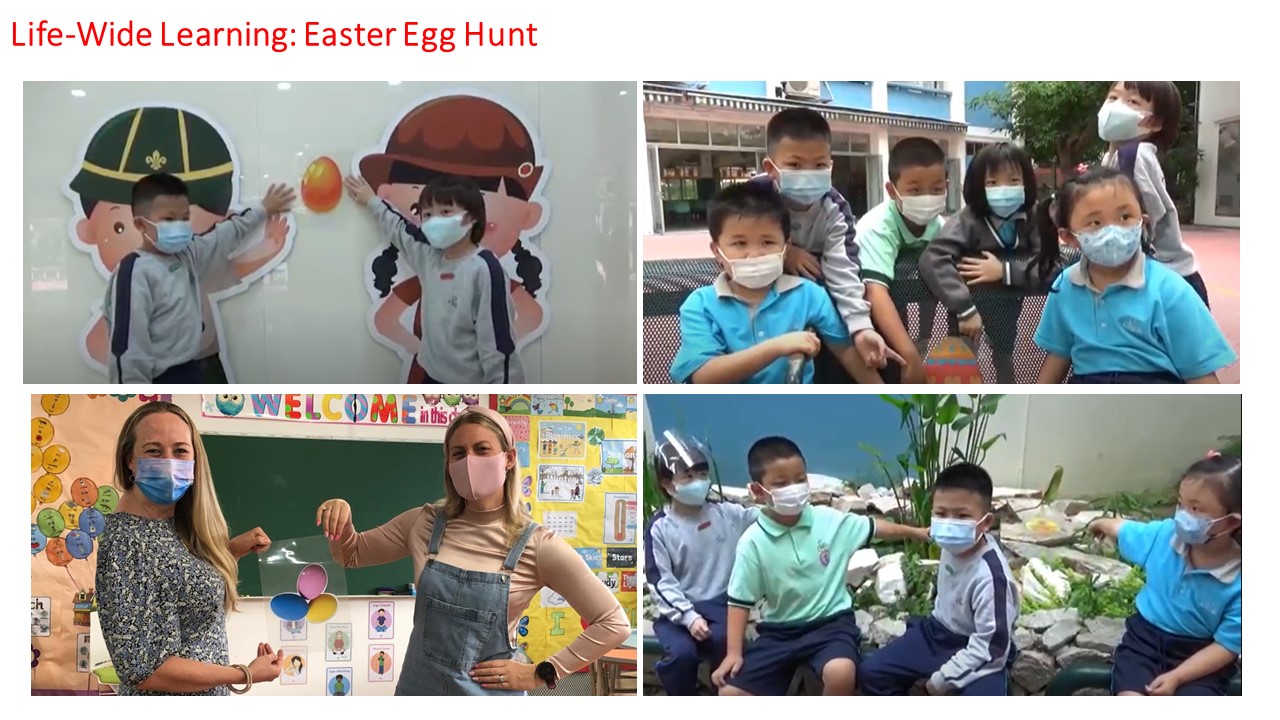 Let's Read and Sing Variety Show
Story-telling Competitions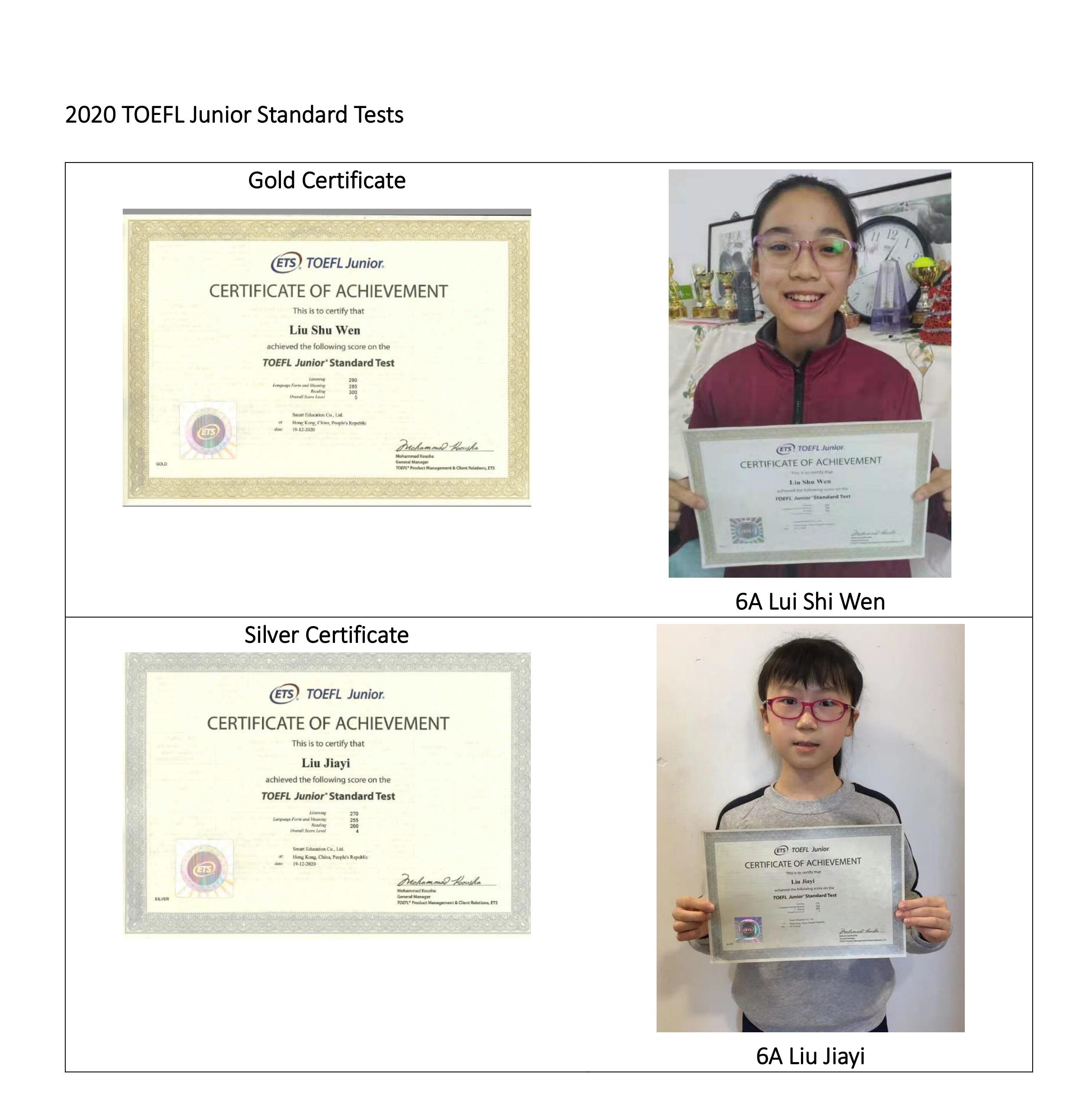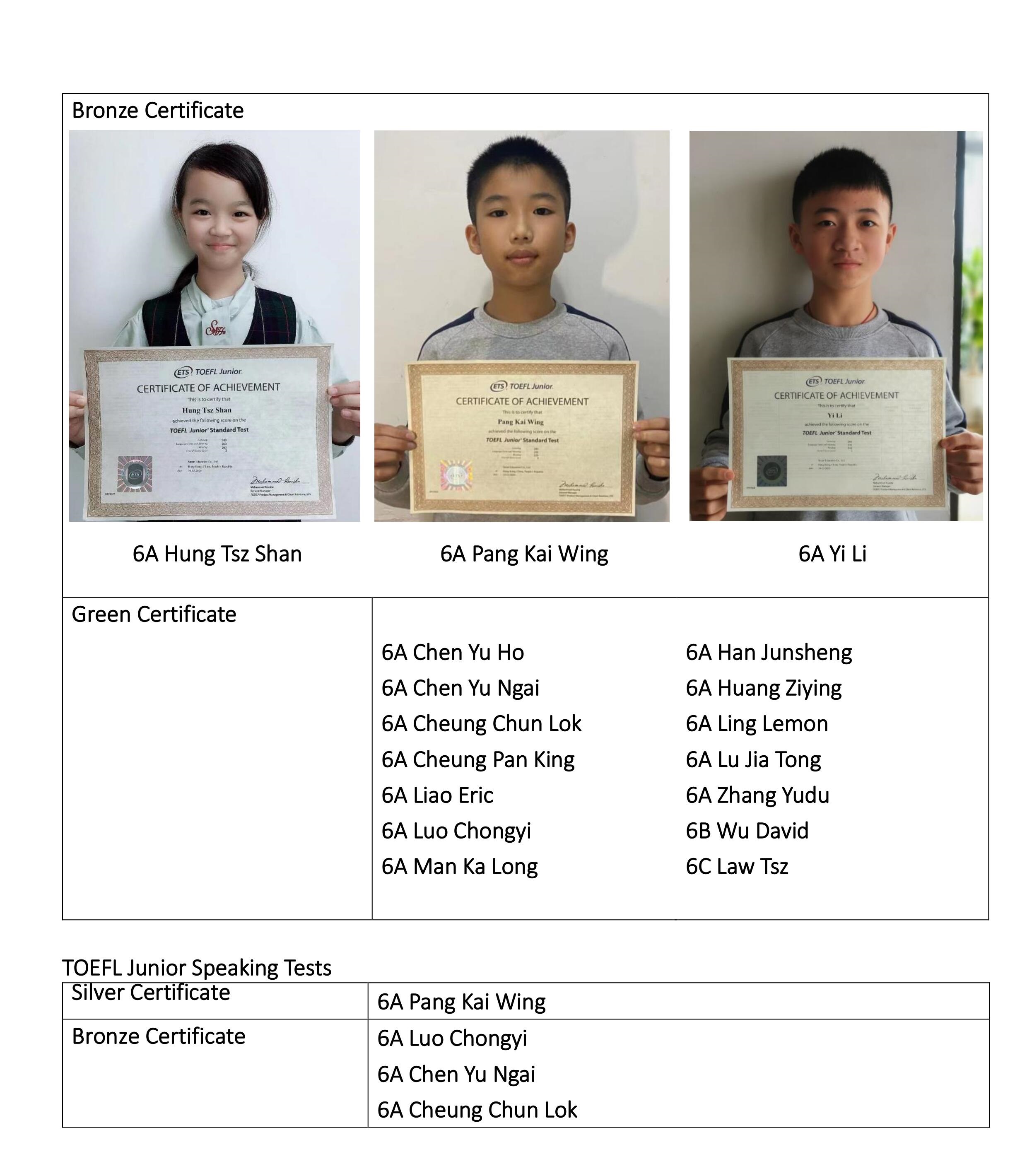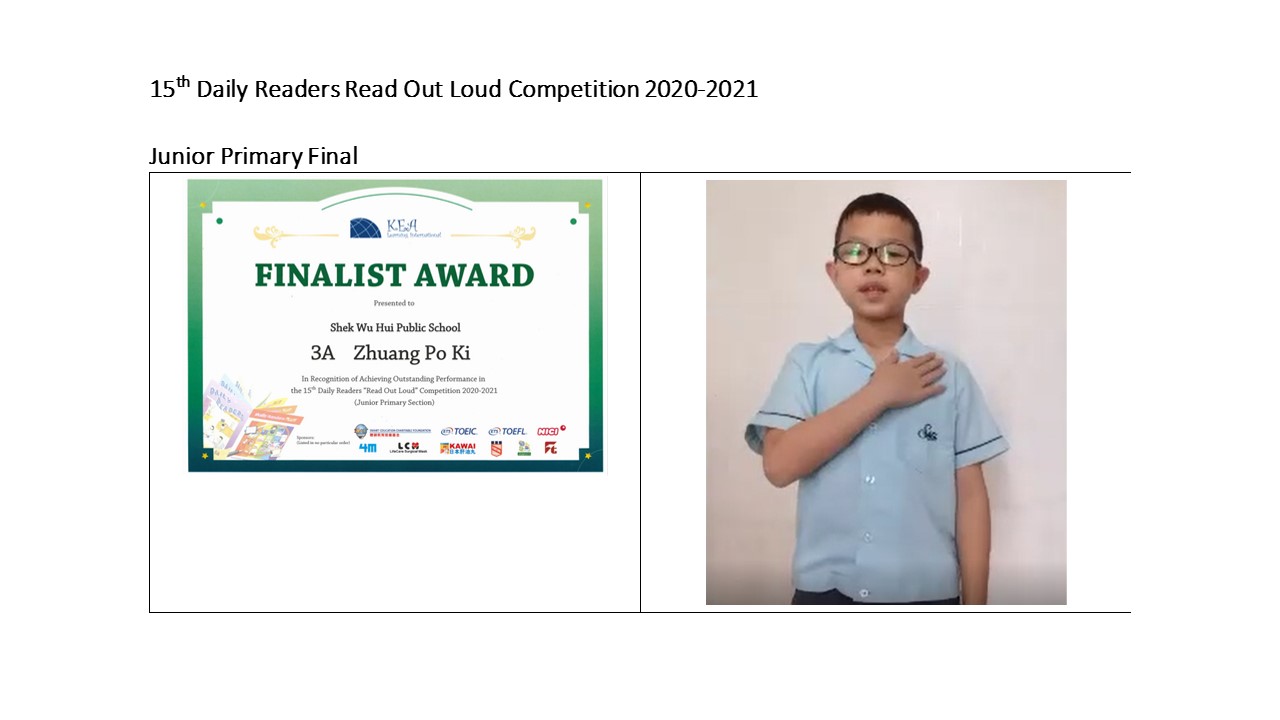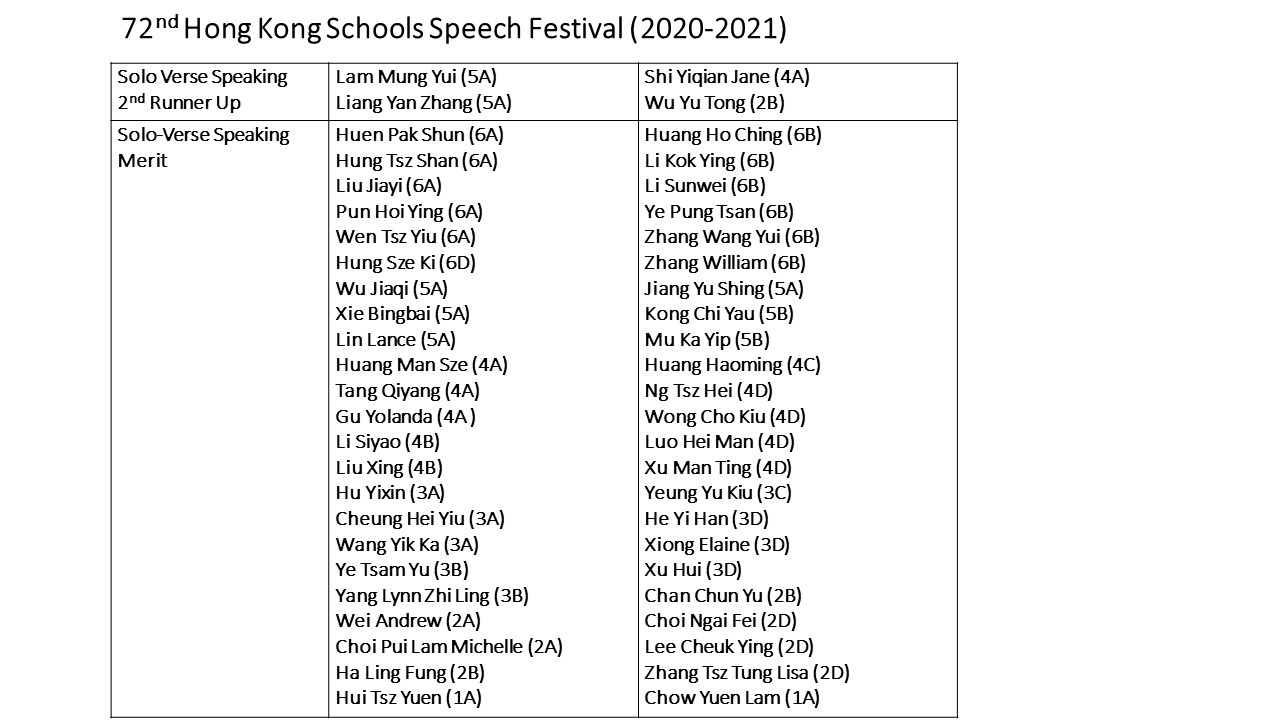 H.K.T.A. Tang Hin Memorial Secondary School 17th (2019-2020) P.6 Academic Contest
organised by Hong Kong Taoist Association Tang Hin Memorial Secondary School

8 Gold

Chan Man Ching (6A)
Chen Yick On Leon (6A)
Gao Siu Nga (6A)
Law Kin Lam (6A)
Liu Andrew (6A)
Wong Kwan Ho (6A)
Yang Yi Fan (6A)
Zhang Ching (6A)

5 Silver

Au Chi Hei (6A)
Chen Hei Wun (6A)
Chu Tsz Hon (6A)
Wang Tin Yau (6A)
Yuan Yu Ki (6A)
11 Bronze
Chen Happy Lok Ying (6A)
Lau Ka Wai (6A)
Lv Luosi Moses (6A)
Tang Lin Hui (6A)
Tsoi Pok Wai (6A)
Wen Yan Tung Tiffany (6A)
Wu Pui Yi (6A)
Xia Xiao Yu (6A)
Yang Ching Lam (6A)
Yang Tsz Hin (6A)
Zhu Yuan (6A)
TOFEL Junior Standard Tests (Listening, Reading and Writing) (2019-2020)
6 Silver
Chan Man Ching (6A)
Chen Yick On Leon (6A)
Gao Siu Nga (6A)
Liu Andrew (6A)
Yang Yi Fan (6A)
Zhang Ching (6A)
10 Bronze
Chen Hei Wun (6A)
Huang Ka Chun (6A)
Tang Siu (6A)
Wang Tin Yau (6A)
Wen Yan Tung Tiffany (6A)
Yang Ching Lam (6A)
Yuan Yu Ki (6A)
Zhu Yuan (6A)
Hu Yuet Kiu (6B)
Tang Cheuk Him (6D)
19 Green
Chen Happy Lok Ying (6A)
Liu Nok Hei (6A)
Tang Linhui (6A)
Woo Ji Ching (6A)
Wu Pui Yi (6A)
Xia Xiao Yu (6A)
Chen Guan Hong (6B)
Feng Sze Wai (6B)
Fu Yun Wei (6B)
Huang Tsz Kwan (6B)
Lee Yu Mak Kingsley (6B)
Mao Yu (6B)
Pang Wan To (6B)
Weng Lap Hang Steven (6B)
Xu Chun Ho (6B)
Zhuang Wing Kin (6B)
Cui Gang Dong (6C)
Li Kin Lok (6C)
Li Yin Hang (6C)
TOFEL Junior Standard Tests (Speaking) (2019-2020)
3 Silver
Chan Man Ching (6A)
Chen Yick On Leon (6A)
Liu Andrew (6A)
7 Bronze
Chen Hei Wun (6A)
Wang Tin Yau (6A)
Wen Yan Tung Tiffany (6A)
Woo Ji Ching (6A)
Yang Yi Fan (6A)
Fu Yun Wei (6B)
Huang Tsz Kwan (6B)
Cambridge English Qualifications (2019 October)
Flyers 15 / 15
Au Chi Hei (6A)
Chan Man Ching (6A)
Gao Siu Nga (6A)
Tang Cheuk Him (6D)
Flyers 14 / 15
Liu Andrew (6A)
Wong Kwan Ho (6A)
Zhang Ching (6A)
Tang Sze Yee (6B)
Flyers 13 / 15
Chen Happy Lok Ying (6A)
Wang Tin Yau (6A)
Woo Ji Ching (6A)
Yuan Yu Ki (6A)
Movers 15 / 15
Huang Ziying (5A)
Ling Lemon (5A)
Liu Shu Wen (5A)
Pun Hoi Ying (5A)
Wu Jiaqi (4A)
Movers 14 / 15
Luo Chongyi (5A)
Wen Tsz Yiu (5A)
Huang Ho Ching (5B)
Movers 13 / 15
Chan Ka Wang (5B)
Zhang Bo Xi (5B)
Cheung Chun Lok (5C)
Movers 12 / 15
Huen Pak Shun (5A)
New Territories East Primary School English Verse-Speaking Contest 2019-2020
organised by Hong Kong and Kowloon Kaifong Women's Association Sun Fong Chung College
Solo-verse Speaking
Champion

Gao Siu Nga (6A)
Solo-verse Speaking
4th place
Peng Tsun Wai (6B)
Zhang Jenny (4A)
3 Merits
Chen Happy Lok Ying (6A)
Feng Sze Wai (6B)
Mao Yu (6B)
71st Hong Kong Schools Speech Festival (2019-2020)
Solo-verse Speaking
First Runner-up

Hu Yixin (2C)
Solo-verse Speaking
Second Runner-up

Yang Tsz Hin (6A)
28 Merits
Hung Ching Tin (6A)
Wong Kwo Tim (6A)
Huang Tsz Kwan (6B)
Mao Yu (6B)
Tang Sze Yee (6B)
Ruan Chung Wing (6D)
Huang Ziying (5A)
Wen Tsz Yiu (5A)
Liu Yu Yan (5D)
Ou Wing Tung (4A)
Wang Sherly (4A)
Wu Jiaqi (4A)
Wen Ran Xiong (4D)
Zhao Pak Sui (4D)
Gu Yolanda (3A)
Shi Yiqian Jane (3A)
Zhou Aili (3A)
Huang Ruijie (3D)
Liu Ai Si (3D)
Liu Xing (3D)
Tam Sheung Sheung (3D)
Wang Yi Xuan (2A)
Ye Tsam Yu (2D)
Lee Cheuk Ying (1A)
Wu Yu Tong (1B)
Yang Diana (1B)
Ha Ling Fung (1D)
Liu Ngo Wang (1D)
2020-2021 Pupils' Good Work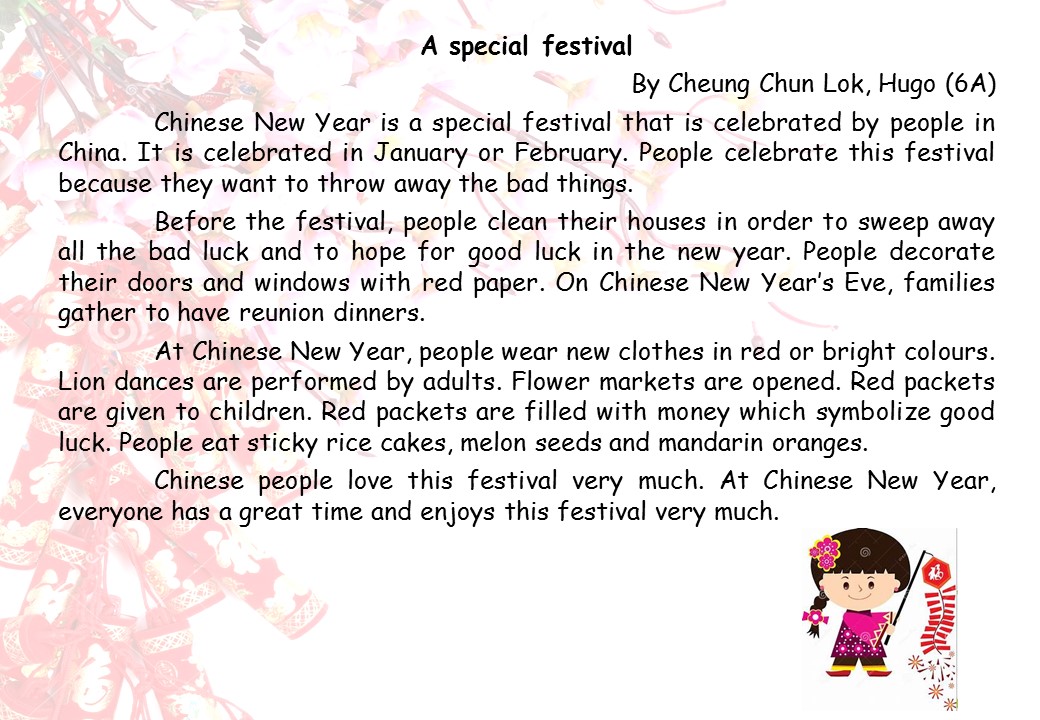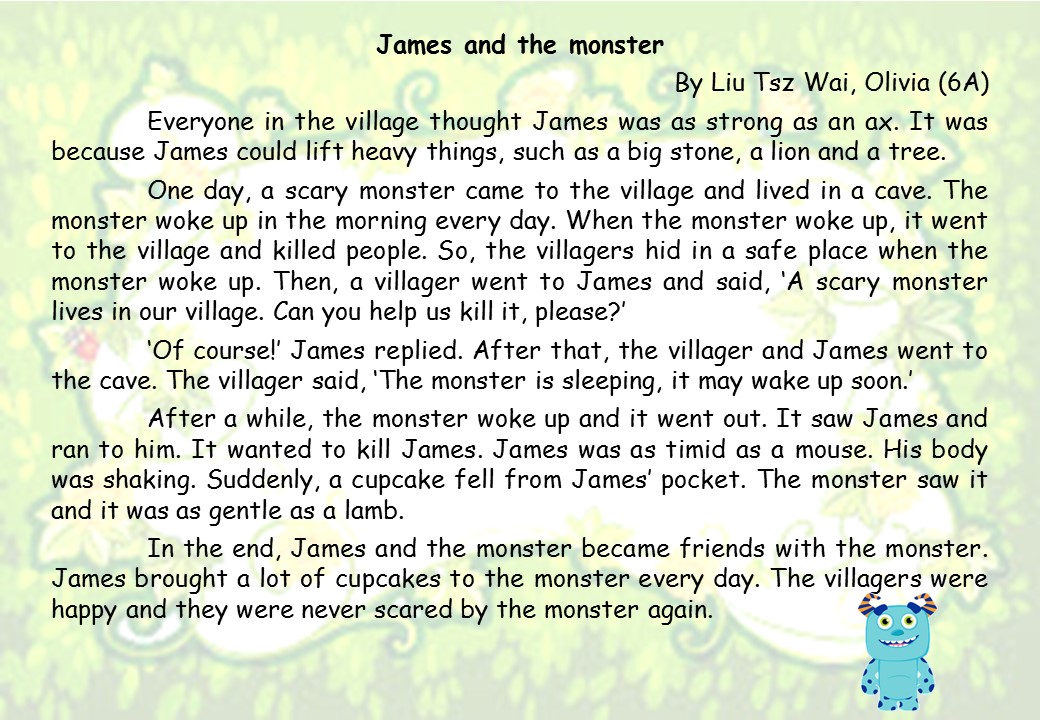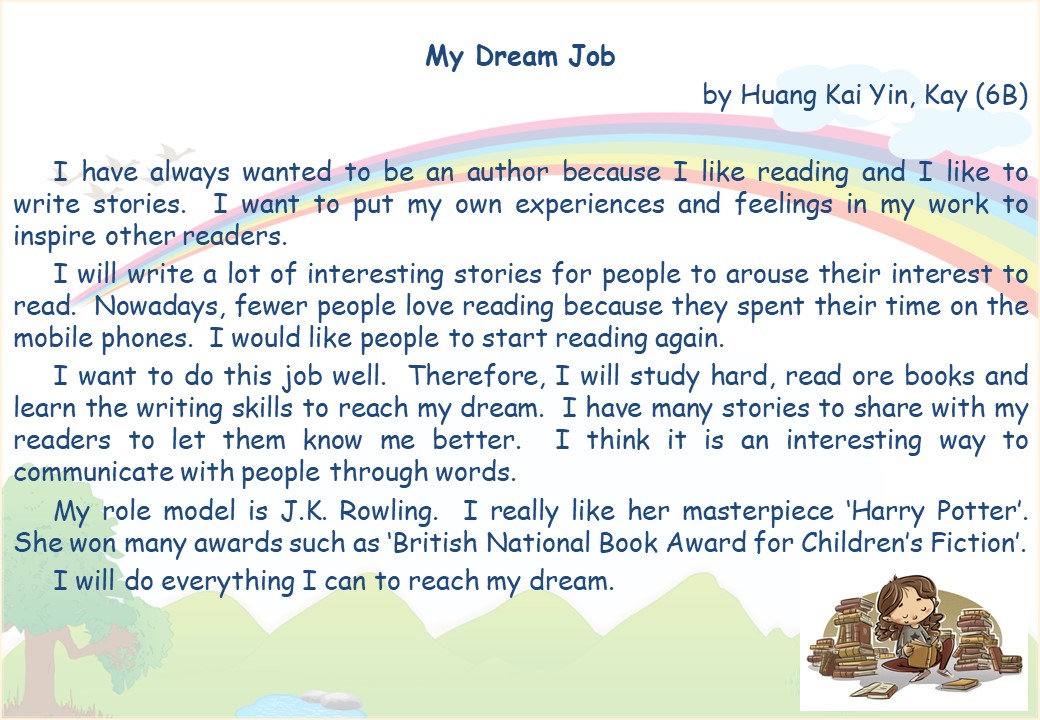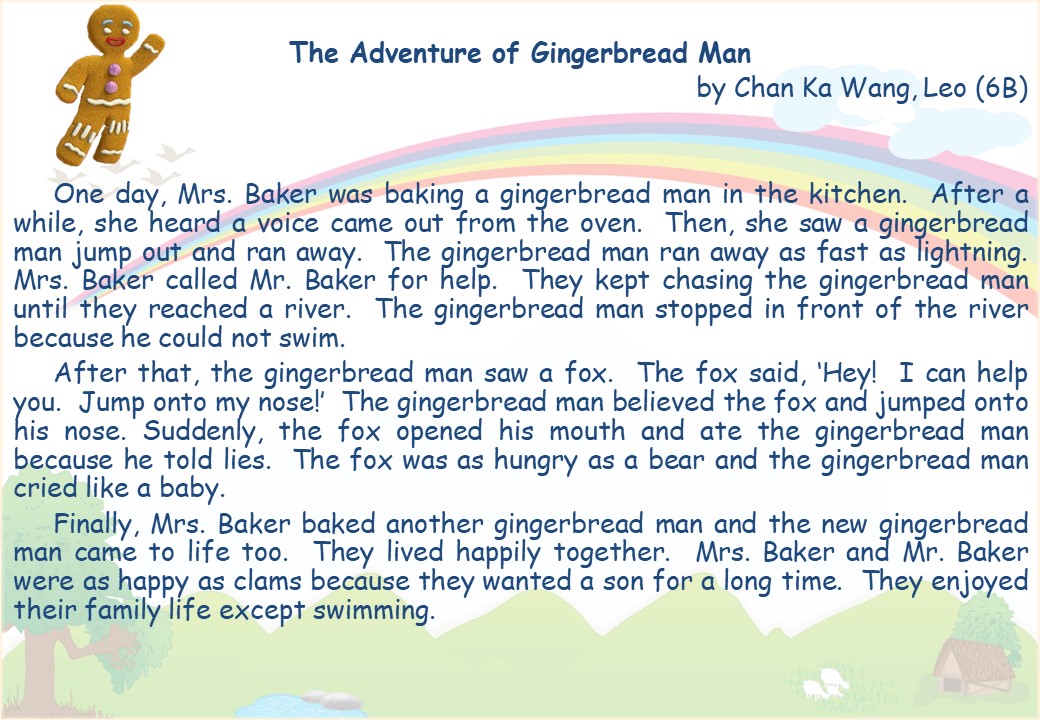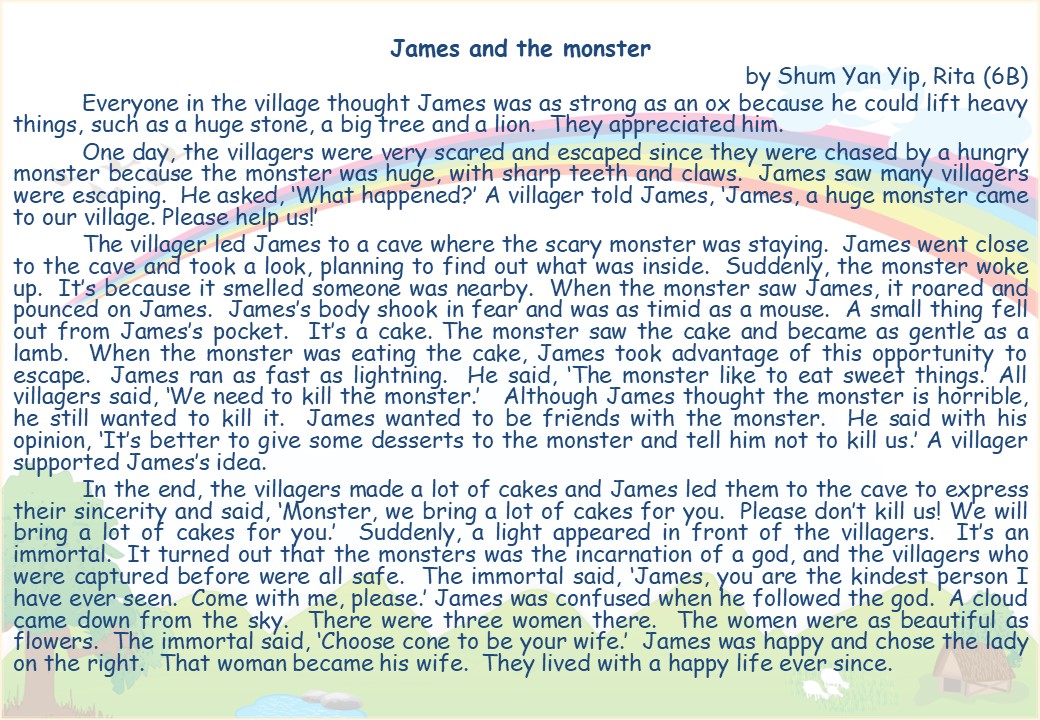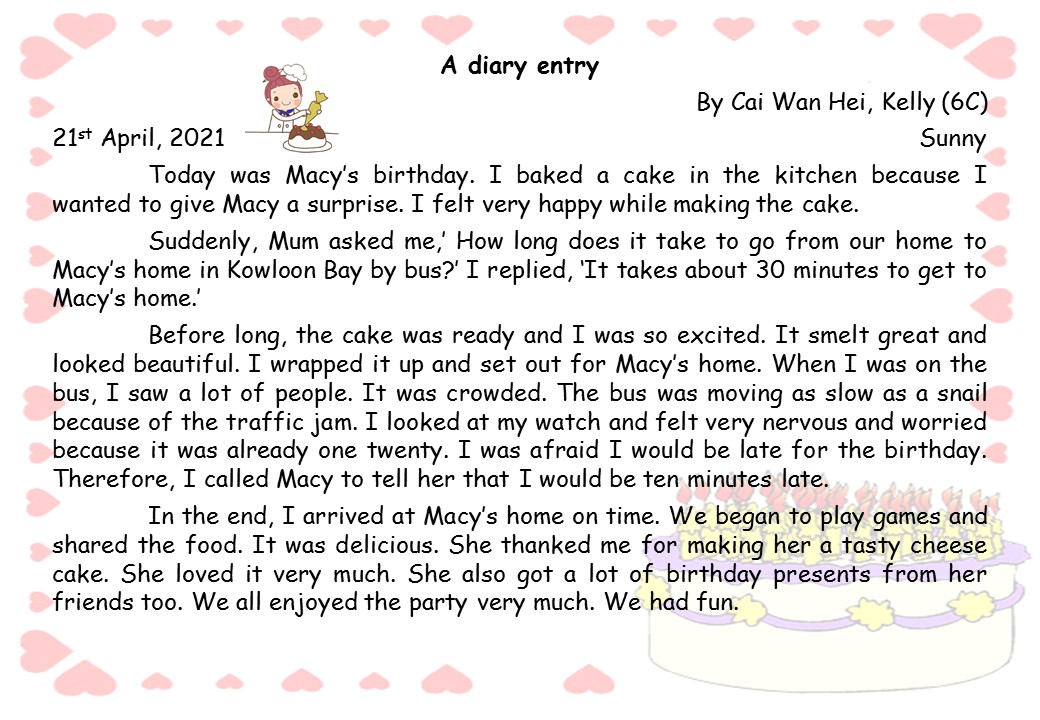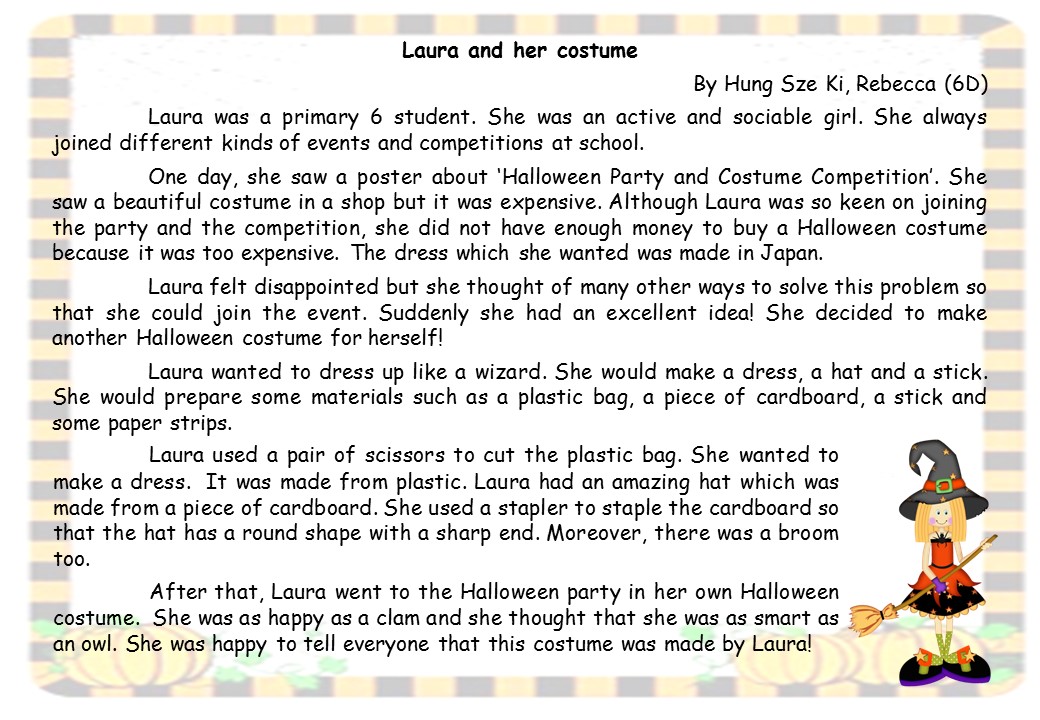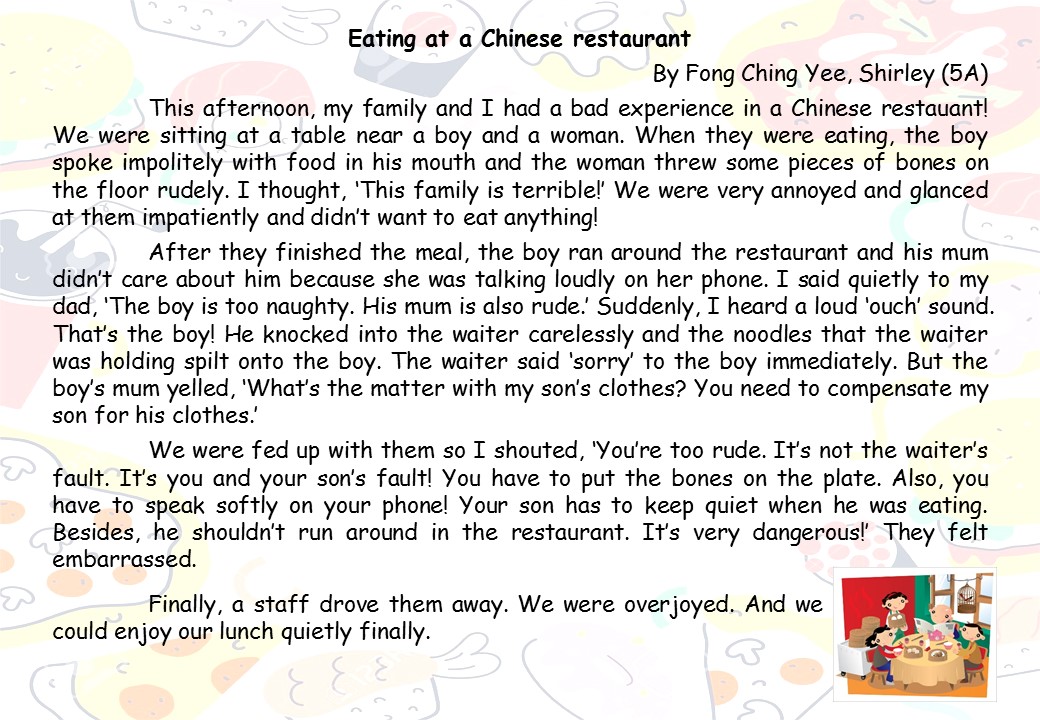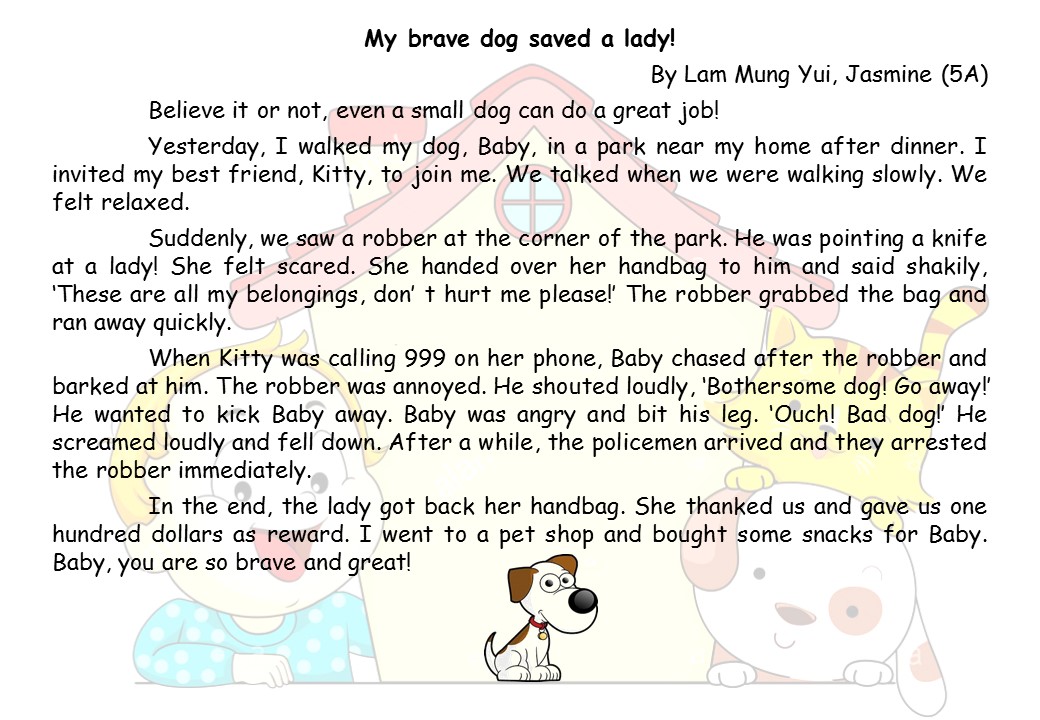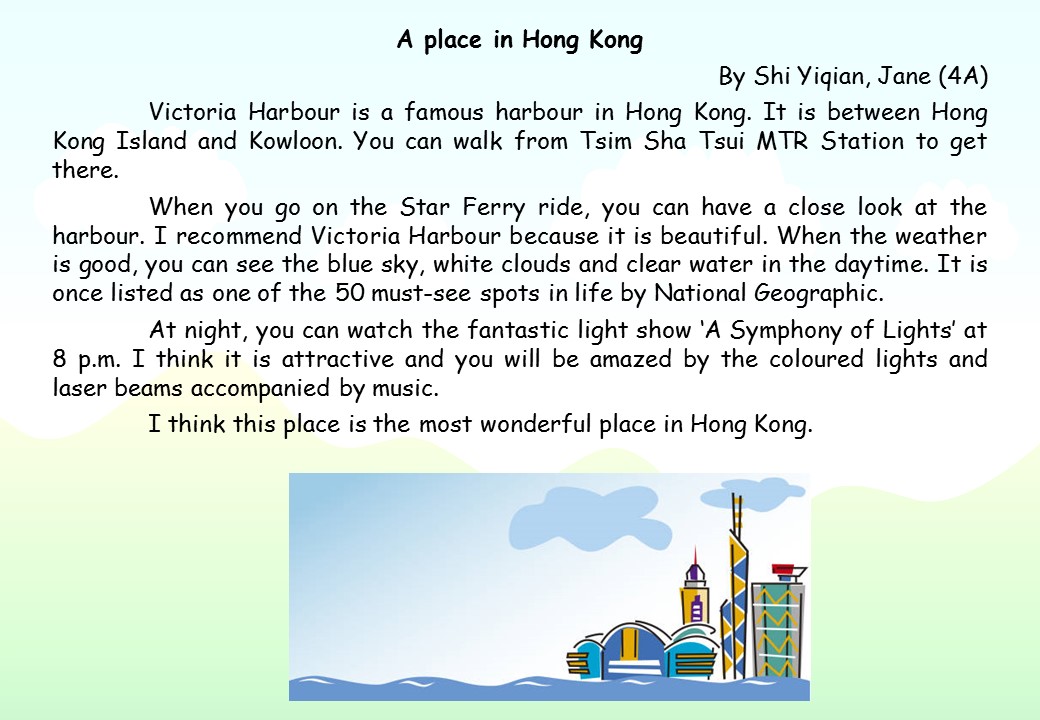 *Head Start ELT Day 2019-2020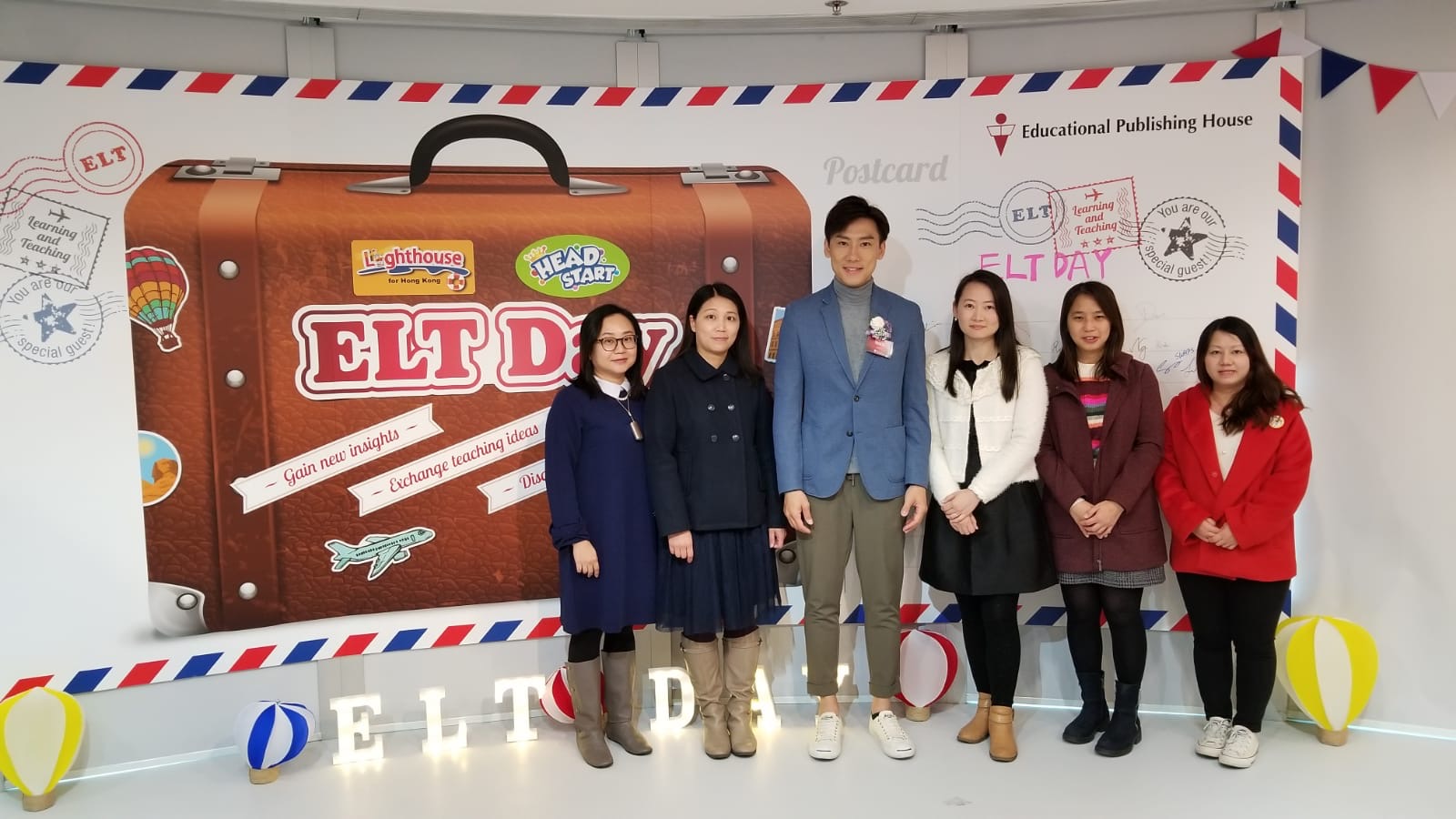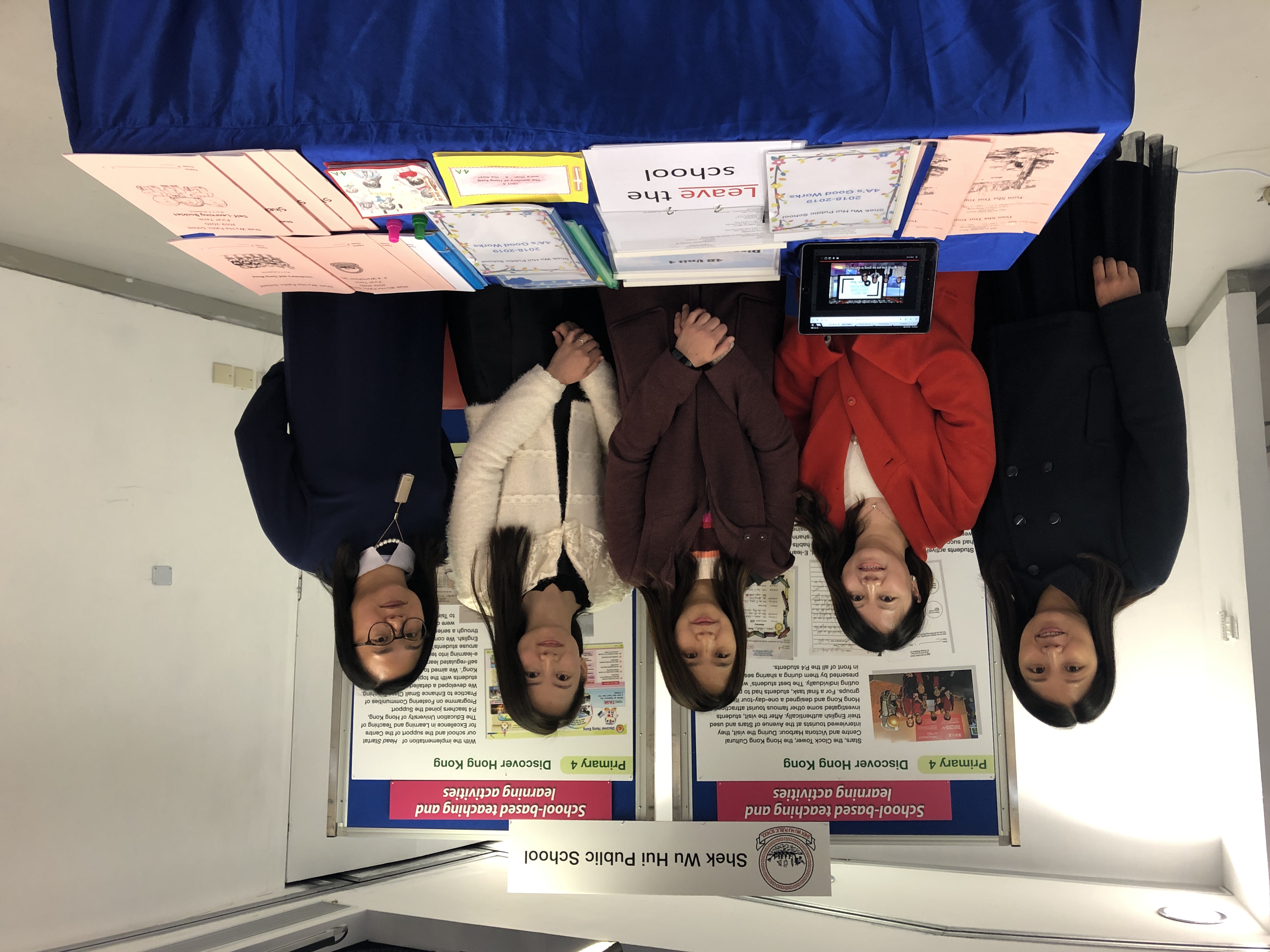 * Head Start ELT Day 2018-2019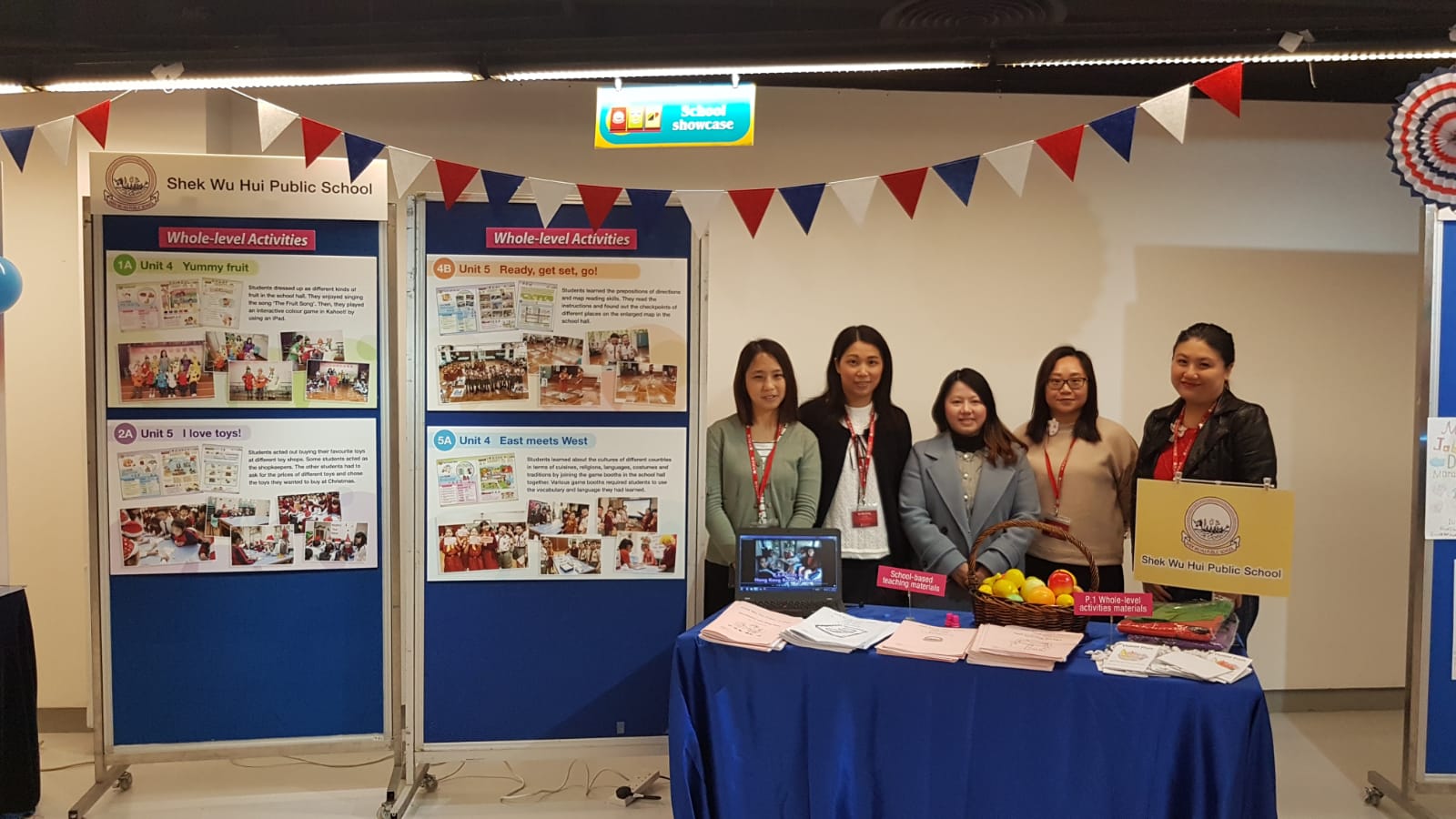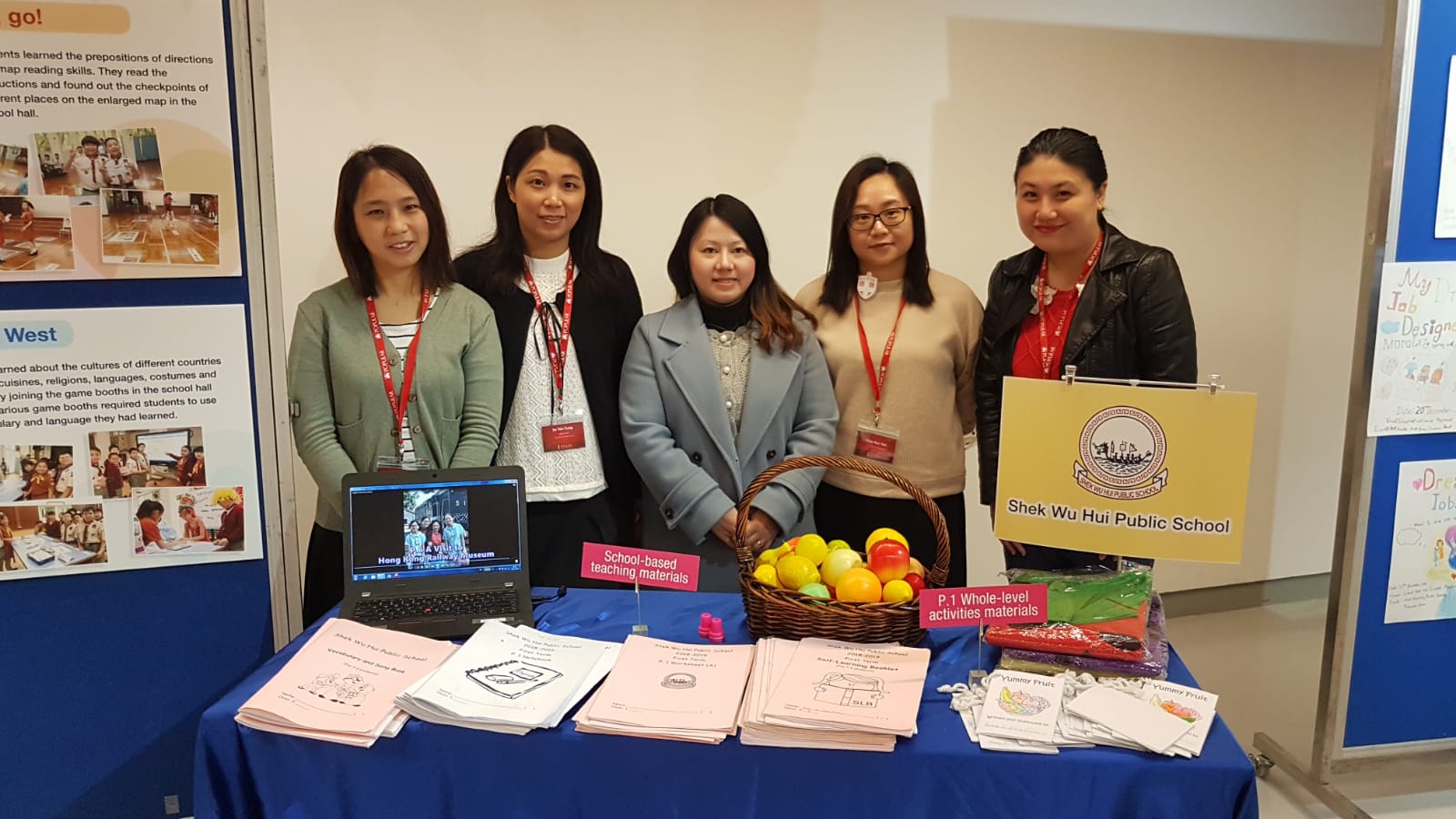 Support Programme on Fostering Communities of Practice to Enhance Small Class Teaching
organised by Centre for Excellence in Learning and Teaching of Chinese University of Hong Kong (2019-2020)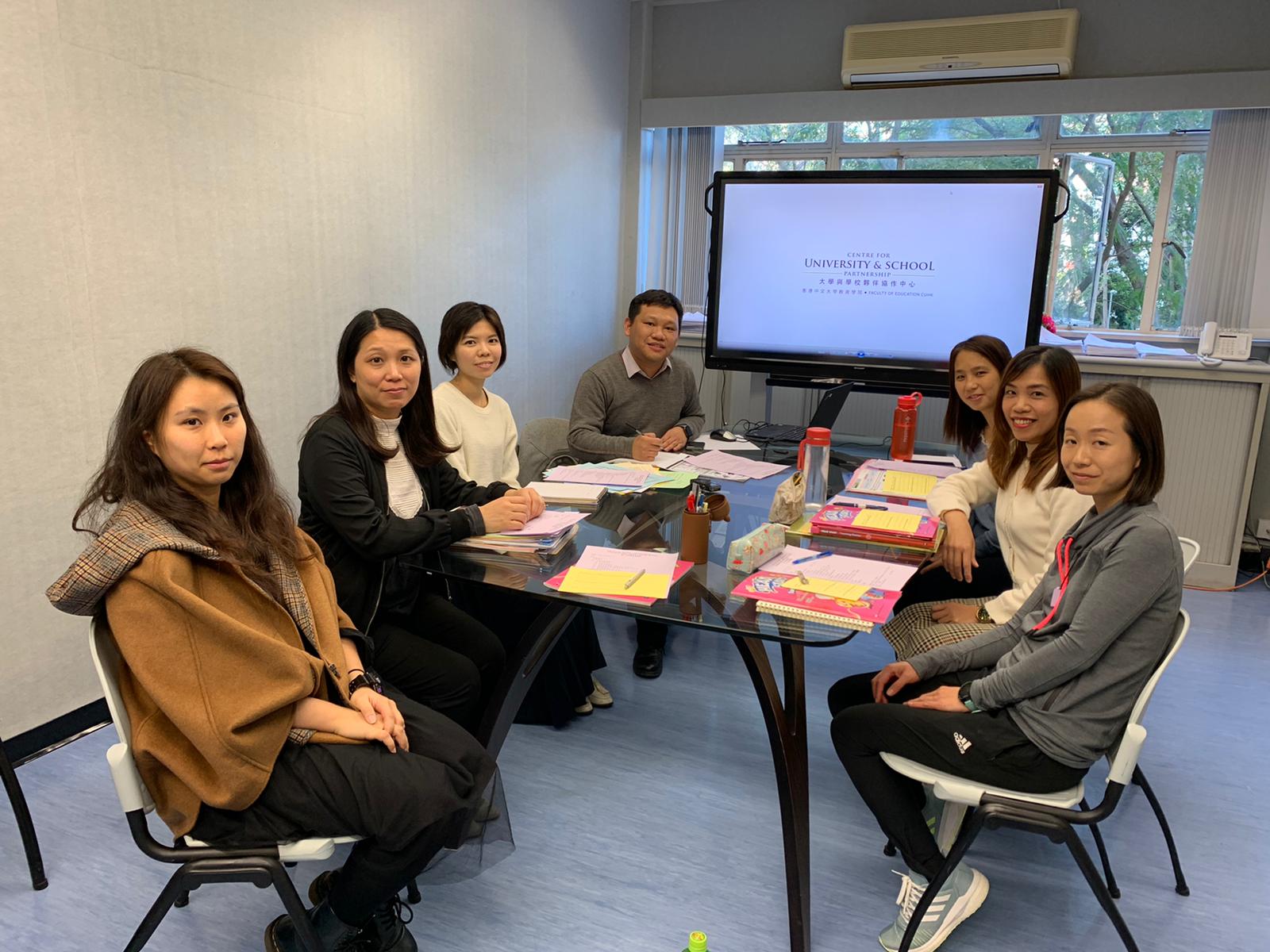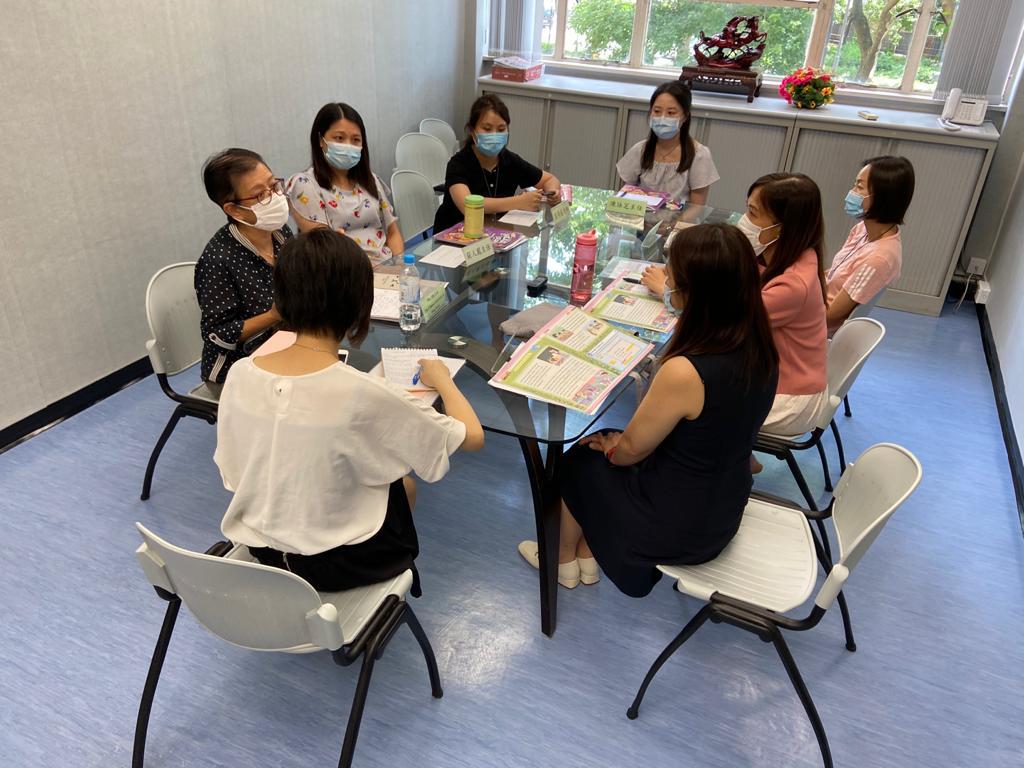 Support Programme on Fostering Communities of Practice to Enhance Small Class Teaching
organised by Hong Kong University of Education (2018-2019)